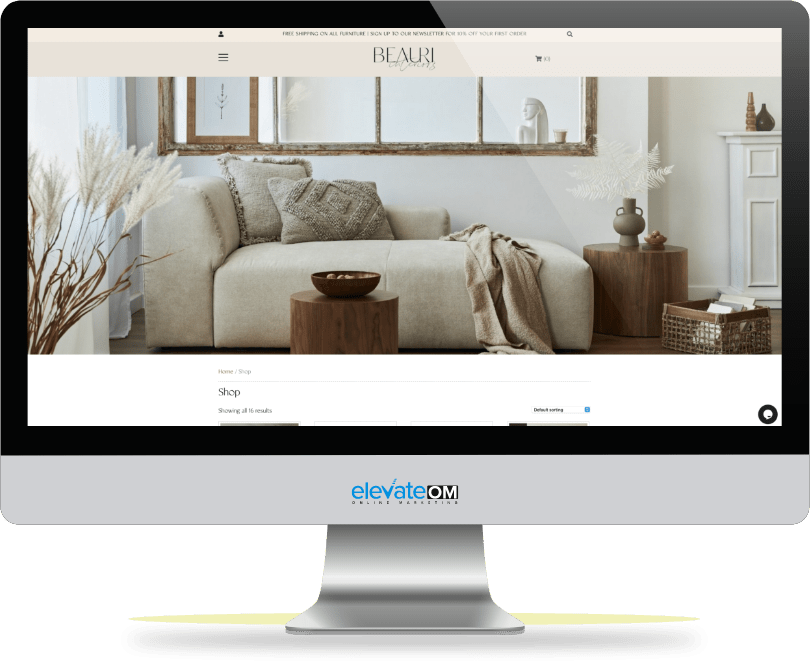 ESSENTIAL TIPS FOR DESIGNING A SMALL BUSINESS WEBSITE
Cess Macamay on March 15, 2023 at 1:44 pm

0 Comments
When it comes to small business website design, it is essential to get the fundamentals of design right; which is where great website designers come in! A website is often the first point of contact for potential customers, and it is important to make a good first impression. Also, for small businesses to successfully compete in the digital space and reach their target audience, a well-designed and effective website is crucial for being found.
"50% of consumers believe that website design is crucial to a business's overall brand"
Source: Hubspot
We break down some of the key aspects that great web designing services consider when creating a strong brand image, enhancing visibility on search engines, attracting customers, and increasing sales.
Layout
The layout of a small business website is very important, as it can affect the overall user experience. The layout should be designed to be easy to navigate and to make it easy for users to find the information they are looking for without causing issues; issues that will likely cause visitors to leave.
Your website can be laid out in a more user-friendly way by using an efficient grid system to produce a design that's appealing and simple for visitors to use and navigate while also drawing attention to the most important elements.
Branding and Messaging
A website is a reflection of a company's brand, and it is important to create a website that accurately reflects the company's values, mission and overall messaging. The right website designers can help to create a website that is professional, modern, and visually appealing while also paying attention to the right content.
Your website should be designed to reflect the company's brand as much as possible to make it stand out from the competition so audiences will remember it and keep coming back.
Fonts and Typographical Considerations
Fonts and typography are important elements of a website design. The right fonts and typography can help to create a professional and attractive website, while the wrong fonts can make the website look unprofessional and outdated. It is important to choose fonts that appeal to the right audience, for example, fonts for legibility for those who are blind or visually impaired and typefaces that enable more unhindered readability for advanced readers.
Overall, fonts and typography should align with the company's branding and target audience.
User-Friendliness
Another important element of good web design for small businesses is taking into account the user experience. It's all about making sure your website is intuitive and easy to use, which means having a clear navigation system, with clear menus and buttons. It also means making sure the website is fast, responsive and looks good on any device.
Website Accessibility
Website accessibility is also important, as it ensures that all users can access the website regardless of their device, browser or disability. By taking steps to make your website accessible to deaf and blind people, you show your commitment to inclusive values and create a better experience for all of your site's visitors.
Additionally, designing an accessible website can increase its overall success. Alt text, transcripts for audio or video content, and clear and concise language are all ways to make your website more accessible.
Mobile-Friendly Design
When it comes to small business website design, it is important to consider the mobile-friendly aspect of the website. Your website should be designed to be responsive and easy to navigate on a mobile device. Additionally, the website should be designed with a mobile-friendly layout and should be optimised for speed. This will ensure that customers can easily access the website from their mobile devices and that the website will load quickly.
Search Engine Optimisation
Search engine optimisation (SEO) is a vitally important aspect of small business website design. SEO is the process of optimising a website to make it more visible in search engine results. Optimising the website's content, structure, and code will ensure the website is more visible in search engine results and helps increase traffic to the website.
You need the right website design and hosting services to create a website that understands and meets all of these requirements and more.
ElevateOM –   Take advantage of our web designing services to amplify your brand and drive sales
Getting the right website designers is key to creating a strong brand image, attracting customers, and increasing sales. ElevateOM offer website design and hosting that is visually appealing, easy to navigate, mobile-friendly and secure – all this at competitive prices and backed by great customer service.
About Our Blog
We love communicating with our customers and anyone interested in our products and services or the industry in general.
Our eOM Blog is a useful resource for our business customers or anyone wanting to keep up to date with Online Marketing News, learn new skills to improve their business, get advice and tips on getting the most from our services and product information, and much much more!
Please visit the eOM Blog frequently to catch up on all things elevateOM and be sure to leave your feedback on our articles!